PVD COATING EQUIPMENT


PVD (Physical vapor deposition) coatings are sometimes harder and more corrosion resistant than coatings applied by the electroplating process. Most coatings have high temperature and good impact strength, excellent abrasion resistance and are so durable that protective topcoats are almost never necessary.
Ability to utilize virtually any type of inorganic and some organic coating materials on an equally diverse group of substrates and surfaces using a wide variety of finishes.
More environmentally friendly than traditional coating processes such as electroplating and painting. More than one technique can be used to deposit a given film.

PVD is used in the manufacture of items which require thin films for mechanical, optical, chemical or electronic functions. Examples include semiconductor devices such as thin film solar panels,aluminized PET film for food packaging and balloons, and titanium nitride coated cutting tools for metalworking. Besides PVD tools for fabrication, special smaller tools (mainly for scientific purposes) have been developed.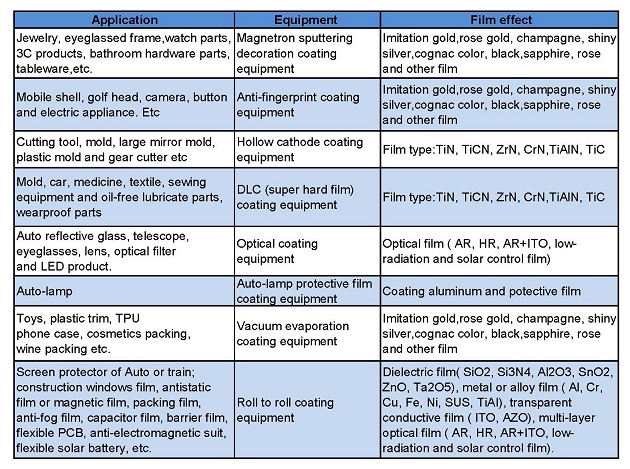 Total: 8
Page: 1 / 1
First
←Previous
Next→
End